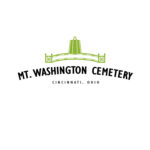 Mt. Washington Cemetery is located in the heart of Mt. Washington, in the eastern suburbs of Cincinnati, Ohio.
The main entrance is at 2030 Sutton Avenue.

There are over 6000 burials recorded in the cemetery, dating from the early 1800s. You can search for your loved ones and see the lot where they are buried by entering the family surname (last name) HERE
Who is legally responsible for maintaining markers at Mt. Washington Cemetery?
Here is an interesting article:
http://agraveinterest.blogspot.com/2012/11/cemetery-responsibilities.html
Let us know your thoughts – click here for survey
Ben Franklin said this about cemeteries:
Show me your burial grounds and I'll show you a measure of the civility of a community.
NEW!!!
Click here for PDFs of original records preserved on MicroFilm by our benefactor, Marjorie Frame and the Hamilton County Chapter, Ohio Genealogical Society.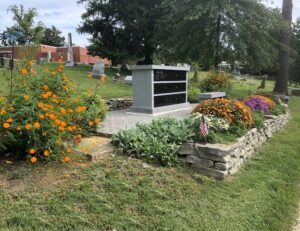 Ashgrove ColumbariumWe are now accepting reservations for our Ash Grove Columbarium.  These niches hold the cremated remains in an above ground beautiful location overlooking the cemetery and are available in single or dual niches, for $1000 per urn.
The site is where a huge 175 year old Ash Tree was removed in 2015. This tree saw the growth and lives of all Mt. Washington residents since 1840, when it sprouted. We felt the tree should be memorialized in this manner. Contact us at 513-484-9729 or click here for ordering information.
(Click here for map of cemetery)
(Click here to see a list of all burials by name)
(Click here to see count of burials per year)*
(Click here to see counts by age of deceased)
* Although the cemetery was not founded til the 1860's, many burials were moved here from other cemeteries.
Read Julie Rimer's fascinating stories regarding the history of Mt. Washington Cemetery.
---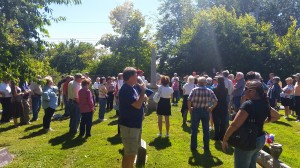 ---
Ways you can help:
Pick up sticks and place in piles near the road(s) (facing the same direction, please!)
Report any unusual activity to the police or cemetery board.
Volunteers are needed to improve the accuracy of our records. Email David Haldeman, Vice President of the Cemetery Association  at mtwashingtoncemetery@gmail.com if you have a computer with internet access, minimal computer skills and are data and detail oriented.
Feel free to walk your dog, but be respectful of the graves of our predecessors!
---
On Sunday, May 1, 2011, Mt. Washington Cemetery inaugurated and dedicated its new Cenotaph Garden with a ceremony from the Sons of Union Veterans of the Civil War and Post 484, American Legion. Present were descendants of Isaac Hurley, whose grave is unmarked and in an unknown location within the cemetery.

Here is a link to a video of the program.

The Mt. Washington Cemetery Association (a volunteer non-profit organization) administers and cares for the cemetery. If you appreciate the natural beauty of the cemetery and would like to contribute time or money, please use our contacts page to let us know how you want to help.

The Samuel Hannaford Designed Mortuary Building was renovated to replace the old wooden floor (which was in danger of collapsing into the basement) with a concrete floor.  These expenses amount to around $7,000.
Click Picture to see pictures of Maintenance Building Basement Renovation Work
If you care to donate to the cemetery to help cover these unexpected costs, click the Donate Button:


Or send your donation to:

The Mt. Washington Cemetery Association
c/o Julie Rimer, Treasurer
PO Box 30025
Cincinnati, OH 45230-0025